Get your mitts on one of our High-Quality Electric Salt and Pepper Grinder Set RIGHT NOW before this deal is gone for good!
These sets are so hot right now they are flying out of our warehouses at a record-breaking rate!
You do not want to miss out on this sale!
MADE TO LAST - Our electric salt and pepper grinder set is made from the highest quality stainless steel and sharp ceramic rotors. The electric pepper mill is not just a great kitchen gadget. Unlike your usual salt and pepper shakers, the electric grinder can be used with only one hand by pushing a button. This spice set is great for BBQ, camping, or a picnic. It comes in a colorful box, makes great Christmas, anniversary, or wedding gifts and can be a useful portable tool for your next travel.
PUSH AND GRIND - Twisting and shaking is old news. Using the electric pepper grinder the only thing you need to do is to push a button. The salt and pepper grinders only use 4 AA batteries. You can grind any of your favorite gourmet spices from ground black pepper white green and red peppercorns to sea salt, pink Himalayan salt coriander seeds cumin seeds, and many other herbs. This grinder is also a great help for people with arthritis or other joint pain issues.
ADJUSTABLE COARSENESS - Maybe you need fine spices for one dish and coarse for another. Just turn the small bottom knob until you reach the desired coarseness and let the pepper mills do the job. The grinders are cordless so you can move around the kitchen at will. Also, the plastic lids(caps) on the bottom avoid making a mess. You can see exactly when it's time for a refill through the clear acrylic glass. The spice container is easily refillable, fast to clean, and dishwasher friendly.
LED LIGHT - Over seasoning is impossible because now you can see exactly how much you are grinding. The light turns on automatically when seasoning your food even in the dimmest lighting conditions. Our modern salt mill will look great on any dinner table, kitchen countertop, or shelf.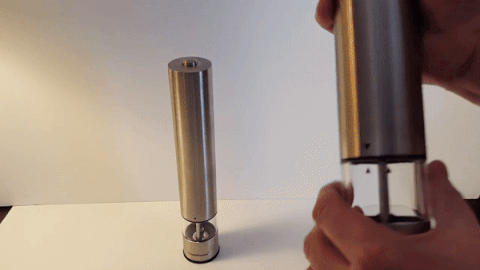 Our Electric Salt and Pepper Grinder is ideal for cooking at home in the kitchen or outside in the backyard. These battery-operated electric grinders make cooking fun and easy by automatically grinding and dispersing peppercorn, salt, spice in a precise and efficient manner. Simply use one hand to operate a grinder, thus freeing your other hand for other cooking tasks. 


Specifications:
Power: 4 x AA batteries
Material: Stainless steel
Size: 22.5 x 5.2 cm / 8.8 x 2 in