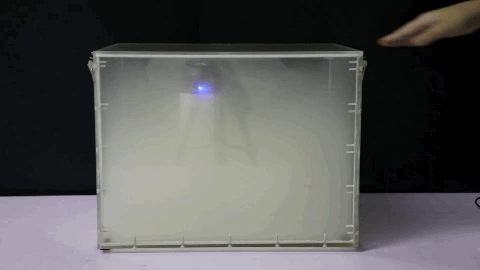 SmartAir™ technology helps capture and destroy bacteria and toxic air at a molecular level.
Its HEPA filter Captures 99.97% Of Dust and Allergens As Small As 0.3 Microns Including: Airborne Pollutants, Pet Dander, Pollen, Dust Mites, Mold Spores, Odors, And Ultra-Fine Dust.
Specification 
Material: ABS aluminum alloy 
Size: 10.6*4.6*3.2 inches 
Weight: 0.88 lbs (0.4 kg) 
Power: 3.5 (W) 
Voltage: 12V 
Suggested use area: 32 sq ft (3㎡) 
Feature 

Quickly purify the air in the car: This air purifier uses HEPA filter material, which can quickly remove odor, formaldehyde, PM2.5, bacteria, viruses and other substances in the car. It can be purified 2-3 times in an hour. 

Easy to use: The purifier adopts infrared gesture sensor switch, which makes you safer to drive, avoiding the danger and insecurity caused by using the buttons while driving. You can switch the product and switch gears through blind operation of the hand. 

Intelligent air monitoring system: This product uses high-sensitivity sensors to quickly capture pollutants in the air. When the pollution level is high, the indicator light is red; when the air quality is good, the indicator light is green; when the air quality is good, the indicator light is blue. 

CADR: It reflects the purification speed of different pollutants by different vehicle-mounted purifiers. The higher the CADR value, the faster the purification rate of the purifier. 

Low noise: When the product is running, the wind volume is only 30db, which can create a quiet and comfortable environment on the car. 

Suitable places: inside the car, small room, bedroom, desk, etc.